A new generation of presbyopia correcting IOL with maximum light intensity utilization for clear vision throughout the whole range of functional vision
Dynamic Light Utilization Technology based on Hanita Lenses proprietary algorithm
Smooth & symmetrical 5 foci distribution and 12 steps in different heights
Pupil aperture optimization
Dynamic Light Utilization (DLU) Intensity's proprietary iterative algorithm works on a concept of multiple loops between target plane and source plane in order to maximize light intensity utilization. It proposes phase solutions at the source plane in order to get the desired target intensity and results.
Intensity lens employs Dynamic Light Utilization technology for maximal light efficiency that transcends the traditional boundaries of conservative diffractive IOL patterns, bringing unprecedented vivid vision to cataract patients.
A revolution in ophthalmic optics, Intensity IOL – as its name suggests – enables intensified vision with far, intermediate and near visual acuity with no compromise at any distance from infinity to 40 cm. Intensity increases quality of life for cataract patients enabling them to perform the full range of day to day activities.
With Intensity, when asked, patients report a lot about good unaided vision and nothing about halos and glare.
I am very satisfied with the latest technology of Intensity that also makes my patients happy.
We've got the widest clear vision IOL in the world.
INTENSITY IOL is highly satisfying for the patients.
Excellence in the vision of the patients in all focus.
Power range - Intensity SL and Intensity BN
10 to 30D (0.5D increments)
Power range - Intensity Toric
10 to 30D (0.5D increments)
Cylinder range:
Powers 10 -20.0: 1, 1.5, 2.25, 3.0
Powers 20.5-30.0: 1, 1.5, 2.25, 3.0, 3.75, 4.5

Aspheric Multifocal Diffractive - DLU Technology
Hydrophilic acrylic with bonded UV absorber and violet light filter
A - Constant Intensity SL and Intensity BN
A - Constant Intensity Toric
Accurate Polish-Free Production Process
The Intensity lens is manufactured using a proprietary lathe process designed to enable maximum accuracy of both the lens profile and its diffractive rings.
Through this lathe process, the lens reaches optimal sharpness and is an identical replica of the profile design for maximal contrast sensitivity.
The proprietary manufacturing technology enables to achieve exceptionally sharp 360° square edge, proven to be effective against PCO along with a wide-angle contact with the capsular bag.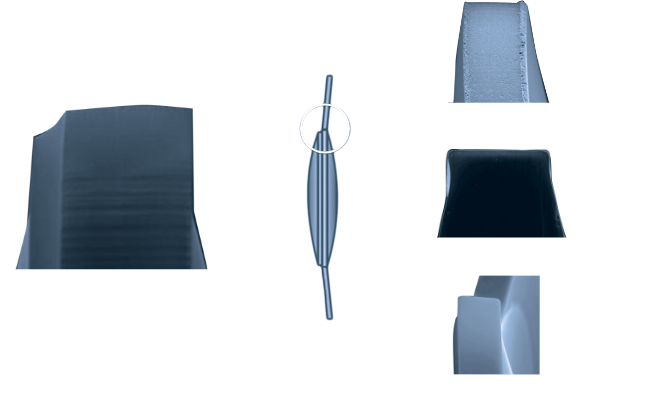 The lens has a special profile that enables the creation of continuous, uninterrupted vision throughout the entire vision range.
The profile is built of smooth shapes with a total of 12 steps with a central ring in 1mm diameter. Step heights vary along the lens radius with a maximum step height 3.6 microns.
OPTIMAL LIGHT DISTRIBUTION
Intensity was designed with a symmetric foci distribution around zero order.
Based on a unique proprietary design developed using the Dynamic Light Utilization algorithm, the modulated transfer function (MTF) is increased in the area between far-intermediate and intermediate to near, enabling a continuous defocus curve.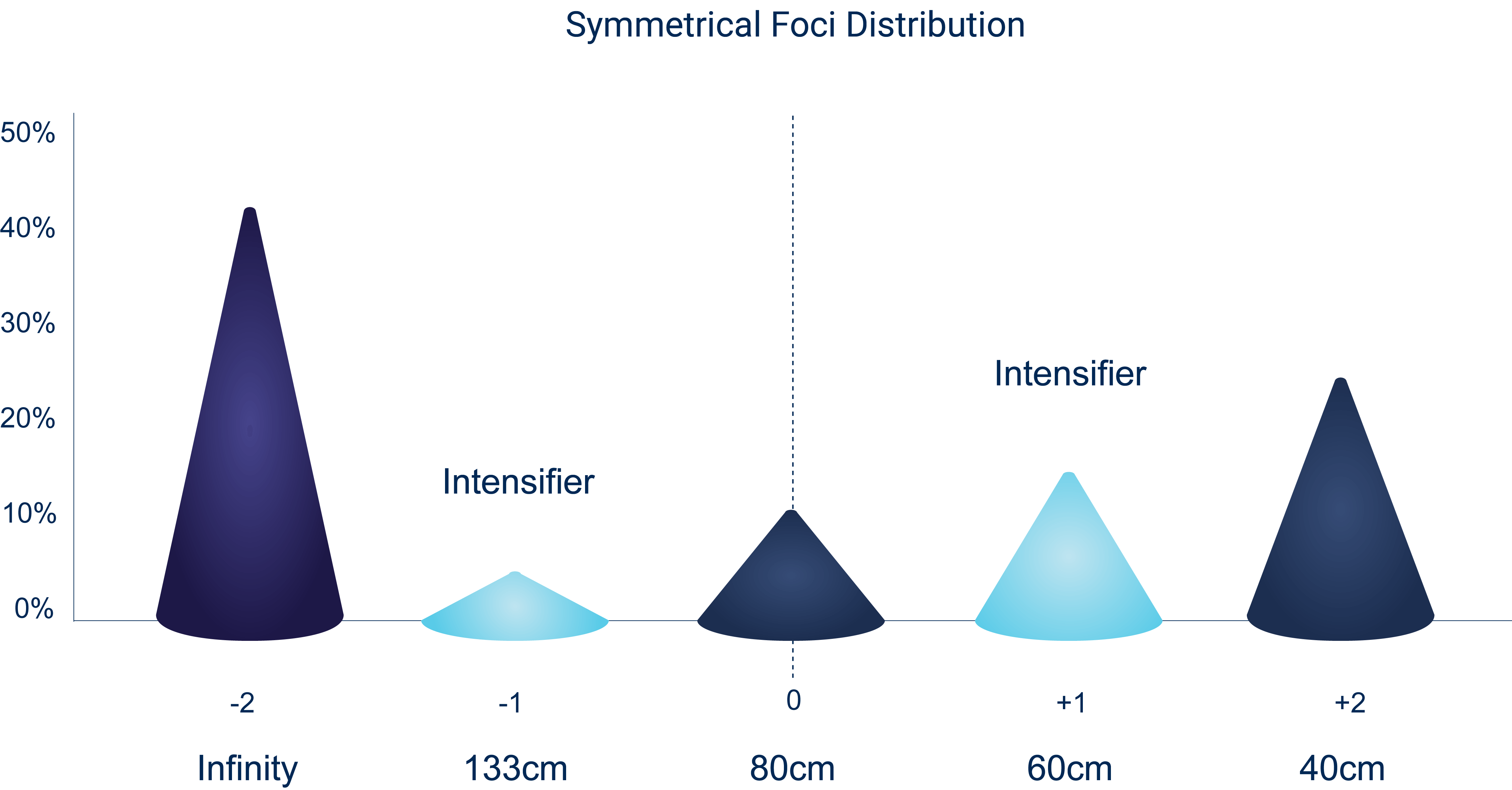 DYNAMIC LIGHT UTILIZATION
The lens profile is highly energy efficient with 46% less energy lost in comparison to competing lenses, potentially decreasing visual disturbances and intensifying vision in patients' daily life.
Advanced Solutions
Unique devices to support IOL implant surgery
FullRange
A unique optic design that is clinically proven to provide clear and functional vision for all distances.
Preloaded
Toric
4 loop
C loop
Signup to get the first look at new products, publications, and events